Dyslexia  Screening
Dyslexia Screening tests are available at our centre in Urmston, Manchester. Administered by a fully qualified, experienced teacher these tests are a highly effective way of discovering barriers to your child's learning. All tests are done in person and come with a full written report.
Dyslexia Screening Test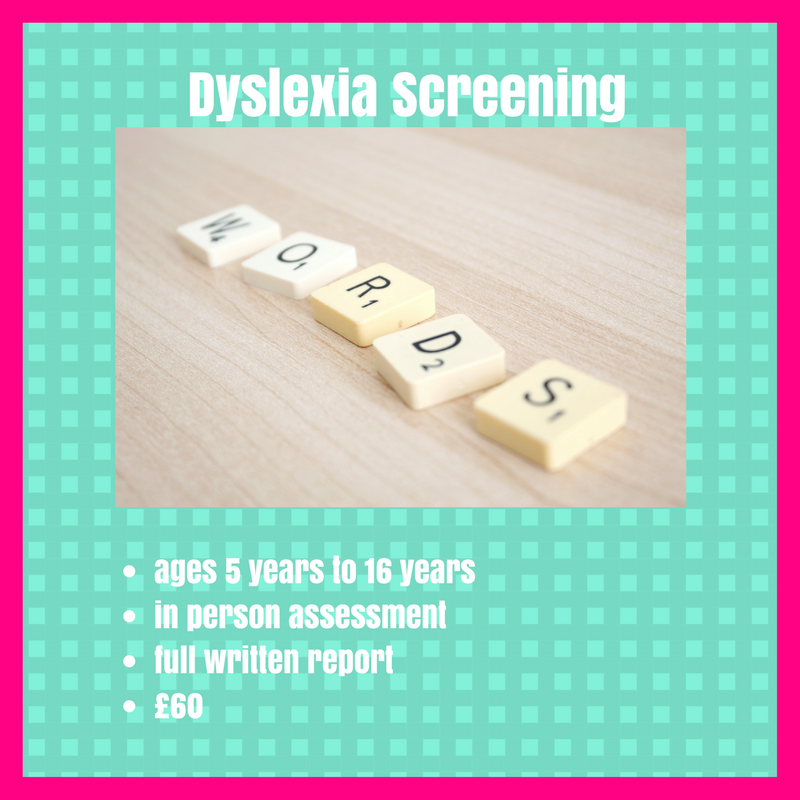 This screening test involves a series of assessments that focus on known indicators/characteristics of Dyslexia. The test gives an At Risk Quotient (ARQ) which demonstrates the likelihood of an individual having dyslexia. Whilst this is not an official diagnosis, it is a well-known and professionally respected, reliable test and many schools, colleges and universities will accept it as an indication of dyslexia whilst waiting for an Educational Psychologist assessment or arrange further testing based on the result. It can be a useful start if you suspect that your child is experiencing barriers to their learning but are struggling to get help. We can offer an Early Dyslexia Screening (age 5 -7 years) This is only really recommended if you have a strong family history or very compelling reasons to believe your child has dyslexia. Many schools are justifiably reluctant to assess very young children because so much that seems a problem at 5 or 6 years old can have resolved itself by 7 years old. If you do strongly suspect dyslexia however, it can be frustrating to have to wait so this assessment would be ideal in those circumstances.
Junior Dyslexia Screening is ideal for 7-11-year-olds and Secondary Dyslexia is designed to assess 11 to 16-year-olds.
As the test is conducted in person and looks at characteristics associated with a dyslexic profile, it can be very useful, even if the result is negative, as it can highlight weaknesses such as working memory and slow processing skills. It is also worth remembering that Dyslexia Screening tests can produce false negatives. This can be the case if a pupil has developed strong coping strategies to overcome their difficulties and is one of the reasons that the British Dyslexia Association do not recommend routine screening at a set age in schools. A child who has a not at risk score for dyslexia at the age of eight, may well be diagnosed with dyslexia aged twelve when their coping strategies can no longer cope with the challenge of work at secondary level.
Time required: 1 hour (approximately)
Cost £60 including a detailed written report with follow-up recommendations – this could be learning resources or other aspects of learning to investigate.
What is Visual Stress?
Visual Stress is a fairly common difficulty, affecting up to 20% of the population, which can be mistaken for dyslexia. It can also affect people with dyslexia but is a distinct condition: not everyone with dyslexia has Visual Stress and vice versa, although a dyslexic person is more likely to have it than a non-dyslexic. Visual Stress is a visual-perception disorder that is not routinely picked up in standard eye tests. The problem is predominantly caused by black writing on white paper. The white paper seems to "glare" and causes text distortion which makes reading difficult. Sufferers describe letters moving or shimmering, white rivers being visible between the words, letters blurring out of focus, letters doubling, shadowing or even reversing. As this disorder is present from the earliest reading experiences, people with this condition do not realise that reading is not like that for everyone The outward signs of VS are often coping strategies to minimise the effects.
How can I tell if my child has Visual Stress?
Children with VS are often reluctant readers – they will "lose" their book, try to negotiate how long they have to read for before they've even started or suddenly think of 101 urgent things they MUST do before they sit down and read.
They may read slowly or jerkily, often with an unsteady pace – reading so quickly they trip over their words and then slowing right down.
They skip lines and words (often they don't notice this and carry on reading without realising it doesn't make sense).
They may wriggle around when reading.
 They may squint or grimace when reading.
 Moving closer to the text as they read is common.
They may complain of headaches.
Yawning when reading is common.
They might rub their eyes.
You may have taken them for several eye tests only to be told their eyesight is fine.
Children with VS often struggle to retain what they have read and find comprehension tasks difficult.
Copying from the board at school can be difficult and slow.
Tracking text with a finger can be a sign if it persists long after the basics of reading have been mastered.
Since 2018, it has been recommended that all Visual Stress screenings are carried out by an optician or optometrist to ensure that any underlying visual difficulties are not missed. There are several opticians in the area who offer such testing – we recommend David Arnold in Sale or Alan Miller in Irlam.
Click here for more details on Visual Stress
How can Dyslexia & Visual Stress Screening help?
Many parents are frustrated that whilst they feel their child is not achieving their full potential, they do not seem to be getting much support at school. Funding in schools is very low at the moment and it can seem like an uphill battle to get help at times. Dyslexia Screening can pinpoint areas that are acting as barriers to learning. Kelly has been a teacher for over 20 years and will make recommendations in her report for support and resources, many of which you can do at home, which can help you and your child to move forward. A dyslexia screener can also help you decide whether a full diagnostic assessment is advisable, if you are unsure.
Ring us on 0161 747 1819 or email [email protected] for more details.