Here at Impact Tuition Urmston only qualified, experienced and enhanced DBS checked teachers plan and teach our pupils' lessons. In the UK there are currently no regulations governing who can tutor your children. Some "tutors" or "instructors" have neither teaching qualifications or experience – we believe in the value of qualified, experienced and professional teachers. You can be assured that our staff are very knowledgeable and proficient in teaching their subjects and age ranges.
The centre is owned by Kelly Barrett, who is the lead teacher. We have a great team of teachers with different specialisms but they all share a passion for teaching and a belief in an ethos of personalised learning and confidence building. We all work closely together and Kelly makes a point of knowing all the pupils, whether she personally teaches them or not, and overseeing their progress.
Impact Tuition is a small independent business, employing local people – your tuition fees contribute to local families incomes, not an offshore investment fund or third holiday home for a CEO!
Kelly has over 22 years teaching experience and is a Primary specialist with particular interests in Special Educational Needs, particularly dyslexia and dyscalculia. She has a BA (Hons) in History and a PGCE both from Manchester Metropolitan University. Kelly mainly teaches Years 2 to 6 but also teaches pupils who may be struggling at KS3 and GCSE due to specific learning difficulties. She has lots of experience teaching children with a range of SEN including dyslexia, dyscalculia, ADHD, poor working memory, ASD and Visual Stress Syndrome. Kelly is currently training with the British Dyslexia Association to become a Level 5 Approved Dyslexia Teacher and has qualifications in Dyscalulia and Maths Difficulties/Anxiety. Kelly lives locally and has 3 school age children who attend nearby Trafford schools,
Rosie is our Key Stage 1 specialist and is an expert on the early learning of reading, writing and maths. She has a First Class Honours Degree (what a clever-clogs!) in English and a PGCE in Primary Education with an Early Years specialism. Rosie is very experienced in working with children on phonics and can pinpoint exactly where their gaps are so as to help them make progress.
Youssef is our Maths GCSE specialist and works in a Manchester secondary school as well as tutoring for us. He has an excallent track record of helping children boost their GCSE grades.
Mairead teaches GCSE Maths and Science and has recent experience of teaching the new exam syllabus in school. Mairead also specialises in helping very nervous pupils.
Usma and Liz teach English Language and Literature at GCSE and English at KS3. They are both subject specialists with recent experience of working in a local secondary schools. They are fully up to date with the new 9-1 English syllabus. They both have expierence of marking GCSE and A Level exam papers for major exam boards. Usma specialises in creative writing and is currently the Writer In Residence at John Rylands Library.
Yogeeta -Qualified teacher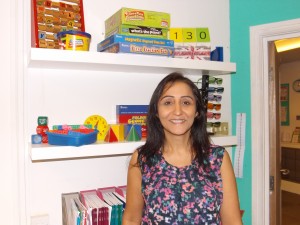 Yogeeta teaches maths and English to our Primary children but also teaches Chemistry and Biology at secondary level. She has a B Sc in Business Computing, a PGCE and has over 15 years teaching and tutoring experience.
We also employ 3 Teaching Assistants who work alongside our teachers, giving extra support to our pupils. Our TAs work under the guidance of our fully qualified teachers and do not replace them, our pupils are always taught in a small group with a teacher: the TA enables particular groups to have extra support.  Our TAs are DBS checked.